We want our students in higher education to thrive and experience lives filled with meaning and purpose. Too often, however, work, anxiety, loneliness, lack of sleep, and other stressors get in the way. The Wellbeing Collaborative at Wake Forest University is a multidisciplinary, multi-institution effort to promote students' lifelong wellbeing, one of the greater purposes of higher education. We invite you to bring your unique perspectives and talents to this important work.
Through the Wellbeing Collaborative at Wake Forest University, we are creating a hub for translational research founded on the belief that evidence-informed programming can improve the effectiveness of the wellbeing supports we provide to students. In collaboration with the schools that take part in our annual Wellbeing Assessment or participate in our events, we are: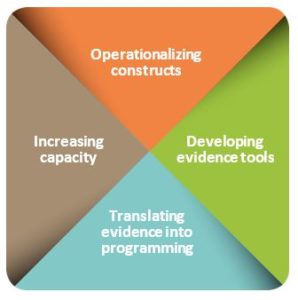 (1) defining operationalized wellbeing constructs that are relevant to higher education settings, (2) developing tools to collect and evaluate evidence specific to wellbeing, (3) adapting models and techniques for translating external evidence into wellbeing programming that is tailored to each campus's unique needs, and (4) helping schools increase their capacity to engage in evidence-informed wellbeing programming.
One of the existing tools that supports the work of the Collaborative is the Wellbeing Assessment. We are actively looking for partners who are interested in participating in this research, along with creating tools for data-mining, program-mapping. and framework tools.
We hope that you will consider collaborating with us in this important work to better understand and positively impact student wellbeing.