Main Content
Multiple large-scale measures exist for assessing college students' Wellbeing, with each measure covering a different range of Wellbeing constructs. When interpreting the results based on these constructs across measures, people may accidentally fall victim to the "jingle-jangle fallacy" by assuming two things are identical simply because they are similarly labeled. To help schools better understand the similarities and differences between existing measures related to Wellbeing, we've compiled a measure "map" using Airtable.
The measures included in this mapping are: Healthy Minds Study (HMS, 2019), National College Health Assessment (NCHA-II, 2019; NCHA-III, 2020), National Survey of Student Engagement (NSSE, 2018), Wellbeing Assessment (WBA, 2020), The Freshman Survey (HERI-TFS, 2019), Your First College Year (HERI-YFCY, 2019), College Senior Survey (HERI-CSS, 2019), and Thriving Quotient (TQ, 2013). Together these 9 instruments cover 2,416 items that were grouped into 10 themes and over 70 constructs.
Click the bottom right corner of the table below for an expanded view. Please note the items in this Airtable tool are copyrighted by their respective authors. They may not be copied or otherwise used without permission from their authors. We provide links to the surveys' main websites at the bottom of this page.
Filtering the Airtable allows you to gather and compare the various items measuring a single construct. For example, searching for a specific term, such as digital media, allows you to see at a glance which instruments contain relevant items and then drill in to see the actual wording, context, and response options for each item.
The table below summarizes the proportion of each survey's items that are associated with each of the 10 themes in the map. Circle size is proportional to proportion of items: larger circles mean that more of that survey's items were about that particular theme. Smaller circles mean that fewer of that survey's items were about that particular theme. An "x" means the survey did not have any items about that theme. As we can see in the table, some surveys tend to focus their content on a few themes. The NSSE, for example, focuses its content on Academic and Personal Circumstances themes. Other surveys, like the Wellbeing Assessment, tend to spread their content across multiple themes.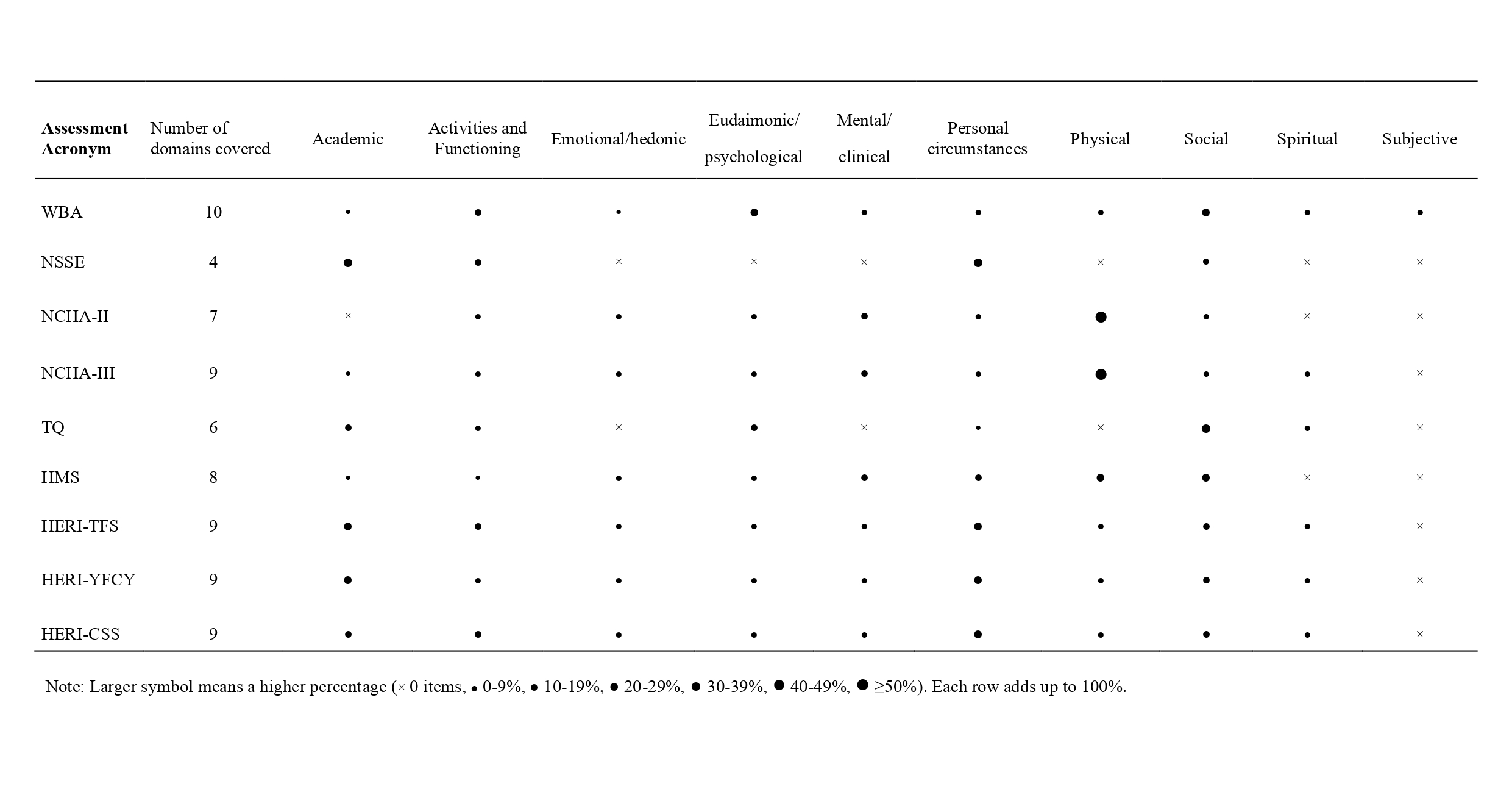 Individual Survey Websites
To learn more about each survey, including contacting authors for use permission or participating in a future administration, their websites are provided here: