Main Content
Overview
The potential pathways to wellbeing are broad in scope, and include both resources and conditions outside the individual (e.g., money, social support, culture) and skills, resources, and conditions within the person (e.g., values, beliefs, knowledge bases, emotional reactions, and social and behavioral skills).
In the Wellbeing Assessment, we have focused on pathways we think university programming will be able to address. As such, most of the pathways included in the Wellbeing Assessment focus on the skills, resources, and conditions within the person as well as those environmental inputs that are directly relevant to the university campus setting.
We have not asked questions about pathways that focus on students' home neighborhoods or high schools because university programs have no influence over them. However, we have asked questions about students' perceptions of campus resources and faculty and staff because those are resources that programming can directly alter, either by providing direct services or by working with university policy-makers to alter practices, policies, and resources. We have also included items about students' relationships with their family and parents. Although university programming is unlikely to be able to address students' relationships with their parents, it can help students negotiate those relationships.
Selection of pathways
We chose pathways using input from four primary sources: (a) feedback from our on-campus programming and faculty experts, (b) research literature about each dimension, (c) the Transtheoretical Model of Change (Prochaska & DiClemente, 1984), and (d) a socio-ecological model.
Our programming experts include members from our Office of Wellbeing as well as members from five other administrative offices. Our faculty experts are a multidisplinary team of five researchers from three academic departments. 
Large-scale wellbeing programming in higher education settings is a developing field. Thus, the research literature we used was broad in scope and included work in theory, clinical intervention, and large-scale programming.
Transtheoretical Model of Change (TTM)
TTM was first published by Prochaska and DiClemente in 1984 (The transtheoretical approach: Crossing traditional boundaries of therapy. Homewood, IL: Dow Jones-Irwin) as a theory of behavior change specific to substance abuse. It has since been applied across dozens of fields in thousands of published articles. TTM is commonly applied in conjunction with Motivational Interviewing, a clinical approach to supporting people through change. Motivational Interviewing was first described by Miller in 1983; the most current full description can be found in Motivational Interviewing, 3rd edition, from Guilford Press (2012). We chose these two theories as foundations for selecting our pathways because they have a strong evidence base across a wide range of behavior-change needs.
According to TTM, people experience a number of processes in the process of preparing to change their behavior:
Cognitive and affective experiential processes
Consciousness Raising (Get the Facts)

Dramatic Relief (Pay Attention to Feelings)

Environmental Reevaluation (Notice Your Effect on Others)

Self-Reevaluation (Create a New Self-Image)

Social Liberation (Notice Public Support) Processes
Behavioral processes
Self-Liberation (Make a Commitment)

Counter Conditioning (Use Substitutes)

Helping Relationships (Get Support)

Reinforcement Management (Use Rewards)

Stimulus Control (Manage Your Environment)
From those processes, we selected a simplified set that met our requirement of being among those that the university setting can and should support:
Current environmental supports

Campus culture

Presence of supportive programming

Presence of supportive faculty and staff

Presence of supportive friends

Intrapersonal factors

Skills knowledge

Actual skills use

Self-efficacy

Motivations

Emotional reactions
Borrowing from Motivational Interviewing, those pathways can be simplified even further into the following formula:
Ready = willing + able
We often talk about our selection of the pathways using this formula because we find it is accessible for both research and general audiences alike.
Socio-ecological models
Socio-ecological models were first introduced by Urie Bronfenbrenner's 1979 book The Ecology of Human Development: Experiments by Nature and Design. Since then, these models have been adapted for a variety of contexts and settings. The American College Health Association's website includes a great discussion of a model specific to higher education here.
We often use this simplified version in presentations and discussions with stakeholders: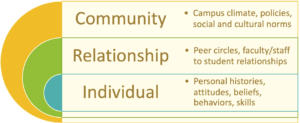 The importance of this model lies in its recognition that other people and our environment directly impact our wellbeing and thereby make them necessary targets for wellbeing programming.