The Wellbeing Assessment includes information on students' achievement of wellbeing as well as whether they have the skills, resources, and conditions needed to get there. Outcomes are indicators of wellbeing achievement, and the necessary skills, resources, and conditions are pathways.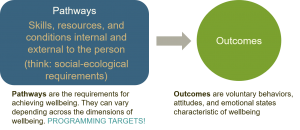 Pathways include both resources and conditions outside the individual (e.g., money, social support, culture) and within the person (e.g., values, beliefs, knowledge bases, emotional reactions, and social and behavioral skills).
The Wellbeing Assessment focuses on pathways that can be key targets for university wellbeing programs. As such, most of the pathways assess skills, resources, and conditions within the person as well as those environmental inputs that are directly relevant to the university campus setting. 
Further information, including more details about the selection of pathways and the conceptual foundation for the measure can be found under the Engine Model.